Breastfeeding is a beautiful thing and quite an accomplishment and should be celebrated! Formula Free Clothing promotes breastfeeding in an elegant and super cute way!
Formula Free was created by Julie, a breastfeeding mother, who created the brand to promote breastfeeding. She wanted breastfeeding to be encouraged and seen as an accomplishment instead of being discouraged. Julie says, "

Be proud to have your baby Formula Free and breastfed for even the smallest amount of time! Be proud of the fact that you breastfeed! Honestly why shouldn't you? Its a wonderful thing to do and you are amazing for doing it!

"
They have outfits for babies, toddlers, and even mamas!
I was sent the N.I.P onesie to review. In case you don't know, N.I.P stands for Nursing In Public. The onesie actually says "N.I.P Warning Nursing in Public" It's so adorable! I love putting it on Isaac when we go places to proudly share that he is a nursing baby! All my fellow nursing moms thinks it's so cute and want one for their babies! The onesie is super soft and fits Isaac perfectly! The applique is perfectly stitched on the onesie and looks very elegant and well made! I love putting this onesie on Isaac because it's so adorable and it's promoting breastfeeding awareness all at the same time!
Check out my little guy in his Formula Free Onesie! He's teething so this is the best shot I could get :( .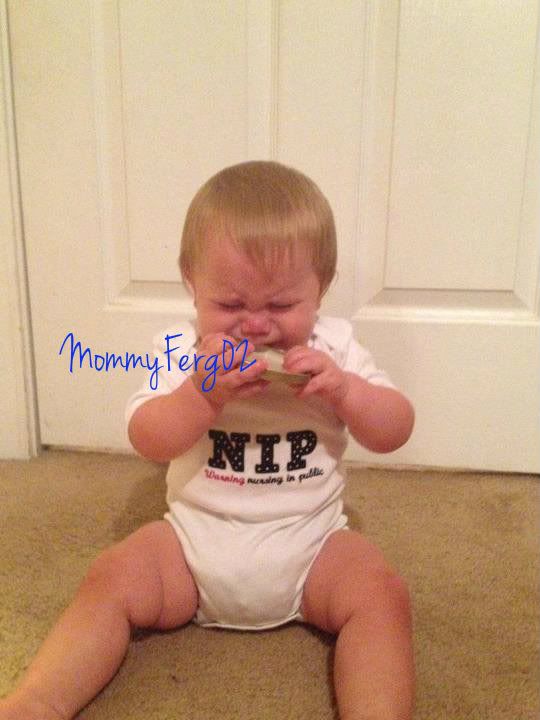 Buy It!
Win It!
One lucky reader will win a $25 gift certificate to Formula Free!
a Rafflecopter giveaway
Disclaimer: I was given this product free of charge in exchange for a written review. I was not compensated in any other way. The opinions expressed on this review are 100% my own. The Not-So-Secret Confessions is not responsible for sponsors who do not fulfill their prizes. We have represented these sponsors with the expectation that they will fulfill their duties as sponsors in a timely manner. In most cases, the sponsors are shipping prizes directly to the winner. If you do not receive your prize in a timely manner, we will make every effort to contact them and assist you in obtaining your prize.