So ya'll know I love to wear Isaac! I love having him close to me while I get things done! I love the ability to be hands free while babywearing! So when I was given the opportunity to review a Boba 3G baby carrier I was very excited! I have heard great things about Boba carriers and I was so ready to try it out and see for myself!
The Boba 3G is designed for babies and toddlers approximately 7 to 45 pounds. It is made of 100% cotton and is designed to fit parents 5'-6'3". It comes with an adjustable, removable sleeping hood and removable foot straps. It can be used in a front carry and back carry and adjusts to an infant carrier without an extra insert!
I received the Boba 3G in "Tweet" to try! It's such an adorable print and very gender neutral in my opinion. Isaac is 9 months old and about 19.5 pounds right now so I prefer to wear him on my back but a front carry is still possible. The first thing I noticed about the carrier was the straps were on the thicker side and felt like they would be very comfortable. The carrier comes with an instruction manual with step by step instructions on how to do different carries. So after reading through it I gave the front carry and back carry a try! I really LOVE the back carry with the Boba 3G! I find it quite a bit more comfortable than most other carriers. He feels a bit higher up than other carriers I've used so the weight isn't so much on my shoulders.
The front carry is super easy and comfortable too! One thing I like about the Boba is there is no extra fabric between me and Isaac so it's super easy to nurse in. It makes for very discreet nursing as well with the higher rise of the carrier.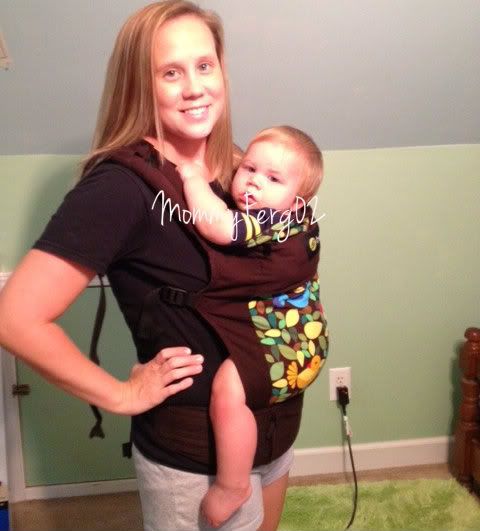 I absolutely love the pockets that are on the Boba. There is on on the waist belt and one on the rise so I stick the sleeping hood on the top pocket and my keys or phone in the pocket on the waist! I also love how easily adjustable the straps are. It's not difficult to loosen or tighten any of the straps and the back strap moves up and down very easily to snap it closed and move to a comfortable position on my back.
The Boba 3G is supposed to fit toddlers up to 45 pounds. Noah is 3 years old and about 40 pounds so we decided to put it to the test! We put Noah on my hubby's back to see how well it worked and if it was comfortable...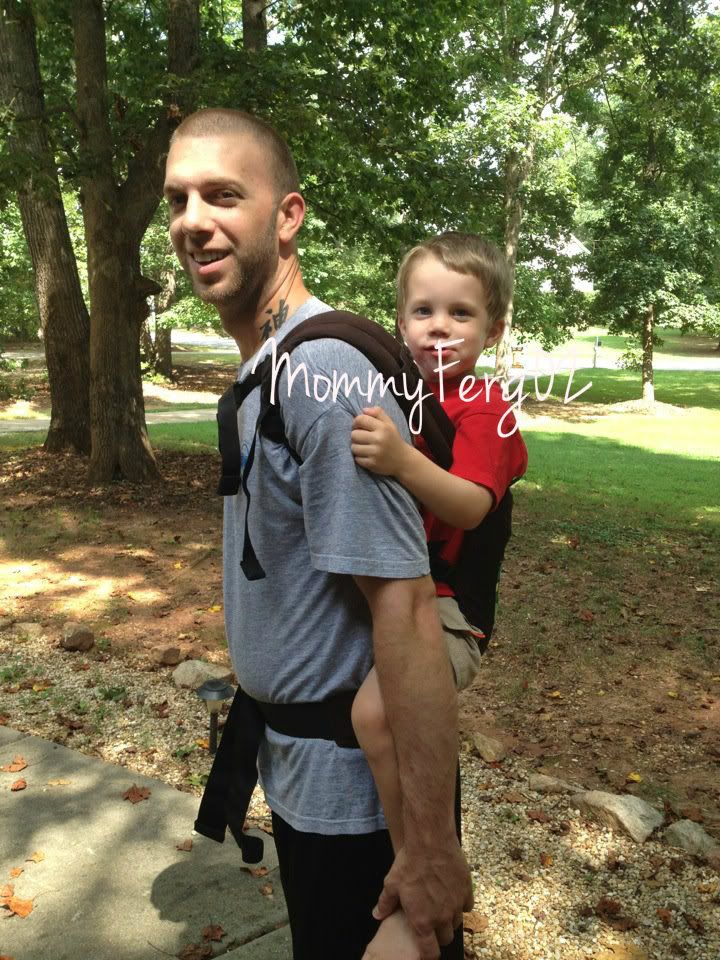 Hubby said it was very comfortable and easy! He said he would definitely want to wear Noah rather than carrying him if we were hiking or walking a long distance! We don't have them attached in this picture but the foot straps are great for bigger toddlers so that their feet are dangling and they stay in a good seated position while being worn!
The Boba 3G is a great soft structured carrier! It is my go-to carrier for grocery shopping and doing things out and about! I keep it in the car and wear Isaac in it pretty much everywhere we go! It comes in 4 beautiful prints and 3 solid colors so there's an option for everyone! It fits babies to toddlers plus mom and dad alike! It's an all around great carrier for almost everyone in the family!
Buy It!
Win It!
Enter for your chance to win a Boba Baby Carrier, a Boba Wrap and a BobaAir! All products can be seen at www.bobafamily.com. With Boba products it is easier than ever to enjoy Freedom Together as a family and Boba wants YOU to get a chance to use their products. To enter to win, "Like" them on Facebook (
www.facebook.com/boba
) and for an additional two entries, follow them on Twitter (
www.twitter.com/boba
).
a Rafflecopter giveaway
Disclaimer: I was given this product in exchange for an honest, written review. I was not compensated in any other way. The opinions expressed in this review are my own. The Not-So-Secret Confessions is not responsible for sponsors who do not fulfill their prizes. We have represented these sponsors with the expectation that they will fulfill their duties as sponsors in a timely manner. In most cases, the sponsors are shipping prizes directly to the winner. If you do not receive your prize in a timely manner, we will make every effort to contact them and assist you in obtaining your prize.