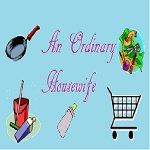 Today's post comes from Rena, AKA An Ordinary Housewife, a stay-at-home-mom to a 3 1/2 year old "princess" and 20 month old "monkey." She blogs about recipes, crafts and activities, ways to save money and her favorite products! After reading her "Strong Mom" below, be sure to check out An Ordinary Housewife for more great stuff! Also find her on facebook and Google+!
First of all, thanks to Michelle for letting me guest post and for thinking I'm a strong mom. I feel I am a "strong mom" because I persisted in providing my first baby with mama's milk until she was a year old, when many would have given up.
When I was pregnant with baby #1, I was all set to breast feed. I went to the class, read up on it, etc. DH was supportive and we were ready to go. Everything seemed to go well with the birth and I was allowed to feed her soon after birth. After about 18 hours, the nurse wanted to take K to the nursery. A couple hours later, they asked if they could feed her a little formula. Though distressed, we agreed, not wanting my baby to starve. K ended up going to the NICU. She had aspirated and contracted pnemonia. When it was time for me to check out (nearly a day after her last feeding) a nurse came in to show me how to use the hospital pump. That would have been useful knowledge to have after she was taken to the nursery. K was only in the NICU for a week, but due to such a bad start I never was able to catch up with her appetite. We also had issues with latching because she was not used to the faster flow of the bottle.
So I pumped, tried to breast feed her, took fenugreek and blessed thistle and managed to make sure she had at least 1-3 feedings of breastmilk a day. By the time she was about 6 months old, I was down to one bottle of formula a day. Then I got really sick with a kidney infection. I could scarcely sit up for 2 weeks, couldn't keep my food down, had terrible back and neck pains and the doctor prescribed a painkiller but said not to give K breastmilk produced while on it. I still had to pump to keep my supply, but had to dump it out. Dumping out pumped breastmilk when you struggle with low supply is one of the hardest things to do! By the time I got better, I was back down to one bottle a day and around 8 months old, K wouldn't latch at all, except to bite. I still continued pumping until the day after her first birthday.
Some people might wonder why I would put myself through that. Why not just give up and give her formula? I was determined. I had a goal in mind and would not be dissuaded, no matter the obstacles. It was hard and very discouraging at times and I did consider giving up. But I didn't give up. And I think that makes me a strong mom. :-)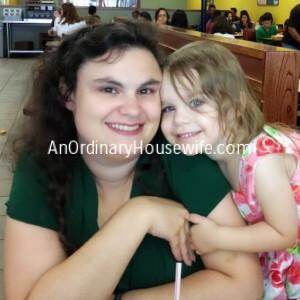 If you would like to share your story and show us how you are a Strong Mom please send me an email at mommyferg02(at)gmail(dot)com!